CSA Farm Subscription Service
November to April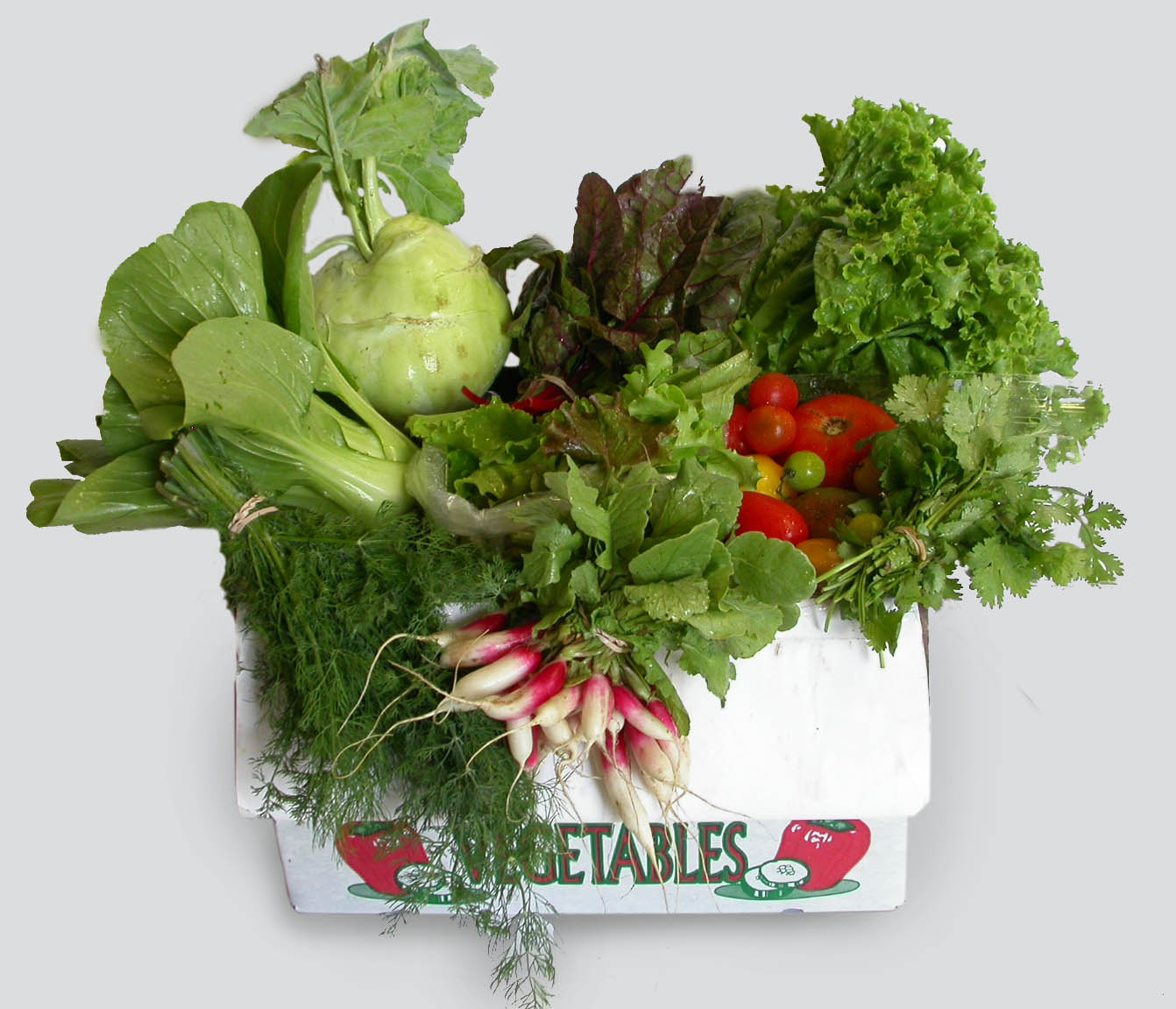 A full CSA share in March 2007
Please NOTE this service is only for South East Florida residents in Miami-Dade, Broward or the Keys. (Are you near Punta Gorda? Worden Farm runs a South West Florida CSA program. If you live in Palm Beach County, check out Green Cay Produce for a similar, but not organic, service there. Or search for a CSA near you using the Robyn Van En Center's search tool.) You MUST be able to PICK UP your share at our farm in the Redland or at a designated pickup point (we have volunteers who donate the use of their porch or covered patio for this purpose). WE CANNOT SHIP.
Together with other Redland Organics member growers, Bee Heaven Farm offers a full-season subscription share service in the winter season.
How does it work? Also called a "CSA" (which stands for Community Supported Agriculture), this is in essence a partnership between the farm and a community of supporting members. CSA members make a commitment up front to support the farm throughout the season. Their fees help pay for the costs of running the farm and growing the food. In return, the farm provides a direct supply of seasonal fresh produce.
A share consists of a weekly selection of produce from local organic/sustainable farms, containing an assortment of several of the following, depending on what is maturing in the garden and quantities available:
carrots, turnips, daikon, broccoli, kohlrabi, beets,

beans (green, pole, snow peas), cucumber, squash, zucchini

greens (collards, mustard, kale, chard), arugula, lettuce variety,

peppers (hot, sweet), eggplant, tomatoes, scallions

oriental greens (tatsoi, pak choi), cabbage

herbs/spices- basil, garlic chives, chives, rosemary, oregano, sage, cilantro, dill, lemon grass, thyme, sage, curry leaf

fruit when available (citrus, carambola, black sapote, avocado)

edible or ornamental flowers, and other items as we grow and experiment with new varieties! (Check out our Availability List)
The season runs for 19 or 20 weeks. We also have available a limited number of half-shares (approx half the quantity of food each week). You can get a pretty good idea of what's in a share and how it varies from week to week by perusing our Newsletter Archive. See the complete CSA brochure and application to sign up.
Subject to Mother Nature's whims, our season runs from mid-November through the end of March or early April. Signup usually begins in July. You must have paid your deposit by September 1st, and your share must be paid in full by October 10th. No refunds are given after November 1st. Don't delay, because once our quota is full, we CANNOT accept more members for the season, unless someone moves away.
We also offer a limited number of introductory 4-week 'trial' full-share subscriptions. They make a great holiday gift! These trial shares are available in January, and we don't guarantee you'll be able to subscribe. Once you begin, however, you can choose to continue for the remainder of the season. Sorry, trial subscriptions are NOT available for half-shares.
If you live by yourself and you think a full share may be too much produce for your needs, consider sharing the service with a friend. You can take turns every other week, or each take half the items!
We are proud to offer locally-produced, fresh-picked, home-grown, certified organic produce for your enjoyment.
Use the application form to sign up and pay online.
If you have any questions after reading our brochure and FAQs call Margie at 305-247-8650 (leave a message); or email csa@pikarco.com
Want to know more about CSA's? Click HERE
Check out the article in the Miami New Times about our CSA!
Also the recent KeysNews article, and a previous Keys Sunday article